Welcome to Prestige Mobile Dog Grooming – IPDGA approved dog grooming service
 Can't come to us? Then we can come to you! With Prestige Mobile Dog Grooming we can come straight to your home to help with your dog grooming needs! No more waiting at grooming parlours and there is no more hassle of picking up and collecting your dog. We operate 6 days a week and cover Limerick Mid-West are.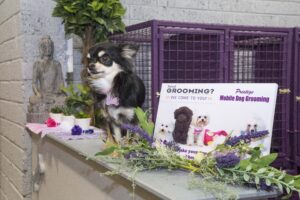 Mobile dog grooming offers more comfort without cages and noise and eliminating the stress caused by travelling. We are fully trained and insured and our team take pride in the high standard of service and care that we offer to all our clients
We understand every client is different, and if mobile grooming doesn't suit you, you can book your dog for grooming at our centre in Limerick.
Prestige Dog Grooming is IPDGA approved bringing the highest standard of professional care to your pet!